Back to News & Updates
Gainesville Eye Associates and Prevent Blindness Georgia Provide 58 Free Eye Exams and 47 Glasses To Help Hall County Children Succeed In the Classroom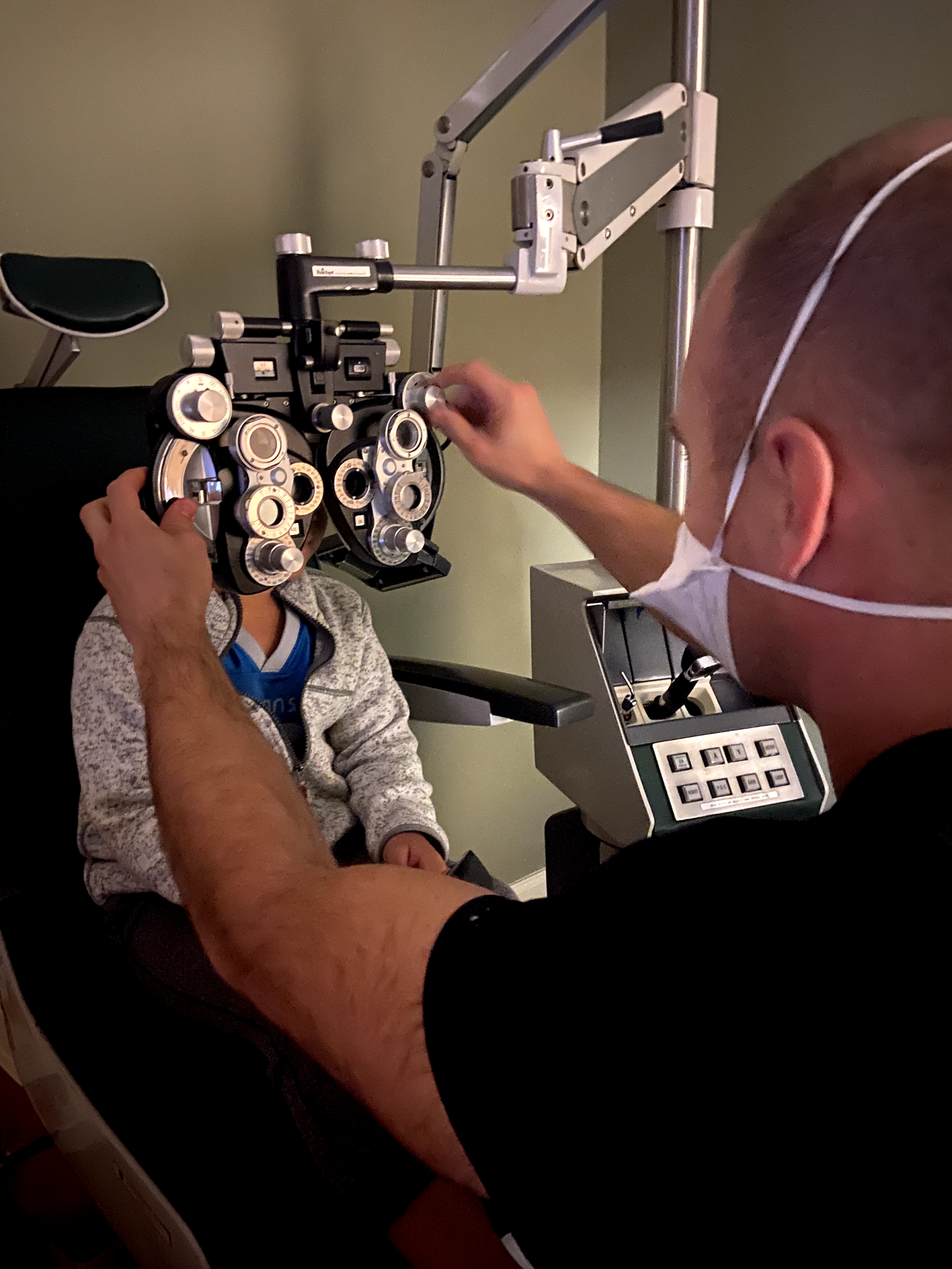 GAINESVILLE, Ga. – (April 26, 2022) – For the third time, Gainesville Eye Associates proudly partnered with Prevent Blindness Georgia and provided 58 children throughout Hall County free eye exams and 47 glasses to help them succeed in the classroom.
When Gainesville Eye Associates and Prevent Blindness Georgia hosted their first clinic in Hall County, the eye screening team quickly noticed that the vision testing failure rate was far above the national average, with Hall County children failing 23 percent of vision screenings compared to 8-10 percent of children nationally. Additionally, many of the children in Hall County faced greater barriers to eye care follow-up and needed extra support.
In response, physicians at Gainesville Eye Associates readily opened their office doors to hold exams for children to be examined.  All of the children who attended Saturday's event had all failed an earlier screening conducted by trained vision screeners from Prevent Blindness Georgia and Hall County School System nurses at local schools.
"It's hard for children to communicate that they're having eye problems and it gets even harder for them to explain it when there are pre-existing language barriers," said Dr. Lori C. Lebow, an ophthalmologist at Gainesville Eye Associates and 2021 Atlanta Magazine Top Doctor. "All children, even without signs of trouble, should have their eyes checked at regular intervals. Leaving them unchecked can set them up for more serious and debilitating eye problems as adults that become much harder for us as eye doctors to fix. All of us at Gainesville Eye know how important it is to be a part of this initiative and keep our students healthy!"   
The most common vision disorders amongst children are refractive errors— myopia (nearsightedness), hyperopia (farsightedness) and astigmatism (blurry vision at all distances). In many cases, symptoms of vision problems such as inattention in the classroom or difficulty learning to read are often mistaken by parents and teachers for behavioral problems or learning difficulties. This misunderstanding ultimately hurts students' educational readiness and learning development when compared to their peers. Without early detection and treatment, uncorrected vision problems can lead to permanent vision loss and learning delays. Having clear vision is crucial as a student because approximately 80 percent of what children learn is through visual input.
"Children who were born with poor vision or have never been able to see well often don't realize that they have vision problems. Vision problems are painless and they don't know what they're missing until they put on that first pair of glasses or finally get their issue corrected," said Shavette L. Turner, Vice President, Children's Vision Services at Prevent Blindness Georgia. "This is why Prevent Blindness Georgia works alongside local eye doctors to provide our community with an accurate, cost-effective way to find and treat vision problems in children throughout Hall County and Georgia as a whole. We are pleased with the progress we've made thus far and look forward to providing more clinics to help our children stay visually engaged inside and outside of the classroom."   
In 2021, Prevent Blindness Georgia's program vision screened nearly 9,000 Hall County children in kindergarten through fifth grades in all of Hall County's 20 elementary schools. Of the children screened, 1,664 needed further assessment, and their families were referred to a clinic hosted at Gainesville Eye Associates for a more in-depth eye exam. At the last clinic in 2021, 27 percent of the children who attended had never seen an eye doctor before coming to the clinic and attended after receiving an initial screening through Prevent Blindness Georgia.
On average, Prevent Blindness Georgia's team of certified professional vision screeners tests approximately 40,000 young children in a typical school year. Upon each screening, each family receives follow-up information to ensure they are connected to the specialty care their child needs. Prevent Blindness is the only national program that trains and certifies people around the country to conduct vision screenings that find vision problems in preschool and school-age children.
###
About Gainesville Eye Associates   
Gainesville Eye Associates are the premier comprehensive eye care providers in Hall County, founded in 1982 by Stephen J. Farkas, M.D. and Jack M. Chapman, M.D. The practice offers patients the latest in eye care technology throughout the greater Northeast Georgia and Western North Carolina regions, with primary clinics in Gainesville, Braselton and Cornelia as well as satellite clinics in Blairsville, Clayton, Toccoa, Hiawassee, Franklin, and Hayesville. From routine preventative care to surgical repair and cosmetic procedures, the physicians at Gainesville Eye Associates have the training and experience to help their patients achieve optimal vision. Gainesville Eye Associates was the first eye care facility in Northeast Georgia to introduce the breakthrough bladeless laser cataract surgery. To learn more, visit gainesvilleeye.com.
About Prevent Blindness Georgia  
Founded in 1965, Prevent Blindness Georgia (PBGA) is a nonprofit organization affiliated with Prevent Blindness America, the oldest and largest voluntary eye health organization in the country. Since 1908, Prevent Blindness has been working to eradicate blindness in children, pioneering a children's vision screening program in schools in 1926. Today, PBGA pursues its mission to prevent blindness and preserve sight by offering an array of services designed to provide a continuum of care at the local level throughout the state for children and economically challenged adults. The organization works to educate and advocate for better eye health and safety and to train others about best practices in vision screening. Through the support of generous donors, Prevent Blindness Georgia offers its services free of charge to those it serves. To learn more, visit: www.georgia.preventblindness.org.